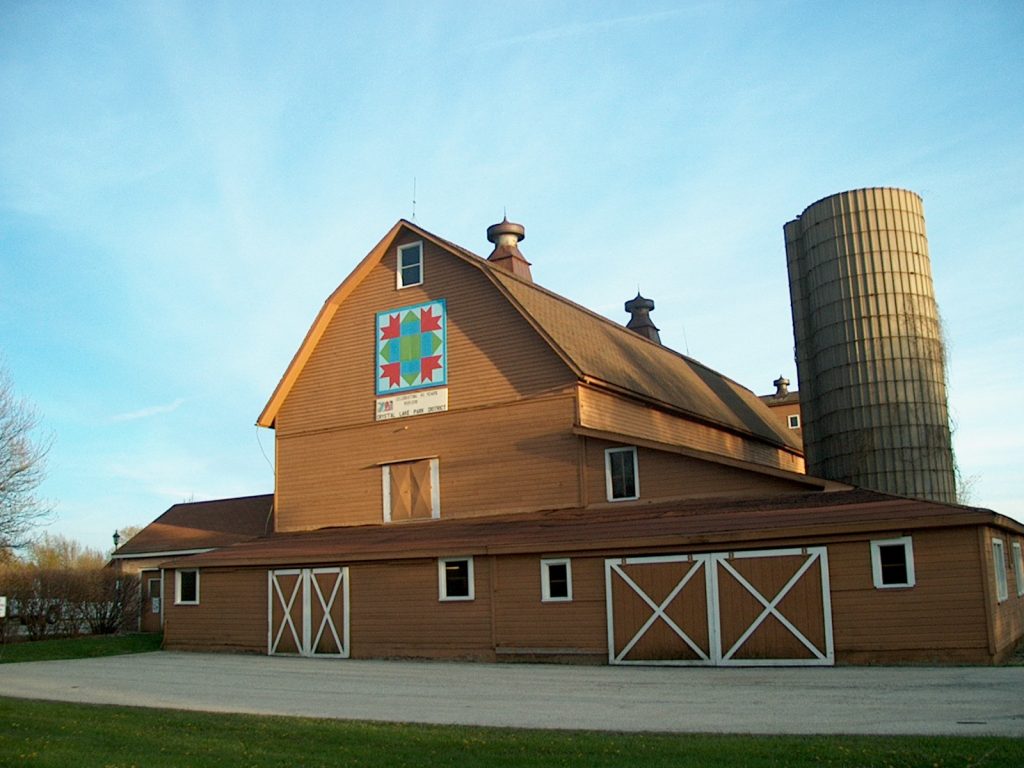 Barn Quilt for Hill Farm Barn (Barlina Road)
During the Summer of 2011, the six top tier counties of Illinois (along the Wisconsin border) celebrated a patchwork of quilt exhibits, programs, and demonstrations.  The program was known as the Northern Illinois Quilt Festival. The tradition has continued each year since then.
As part of this program, various groups from McHenry County created and installed barn quilts on barns throughout the county. The purpose of the barn quilt program is not only to provide beautiful public art but to bring attention to barn preservation and restoration issues and to promote agri-tourism throughout the county.
The Crystal Lake Historical Society and Crystal Lake Park District has created and installed a barn quilt on the Hill Farm Barn on Barlina Road in Crystal Lake. The quilt honors the 90th anniversary of the formation of the Crystal Lake Park District.
The barn quilt measures 8′ x 8′ and was painted on exterior grade plywood. A Weathervane Variation pattern was selected and painted in colors to symbolize the natural elements that formed our McHenry County landscape. Deep blue represents the waters of our many ponds, lakes and rivers. Lighter blue represents the sky from which rain and sunshine nourish our crops. Green represents the lush farm fields and natural areas that have been preserved throughout McHenry County. Deep red symbolizes the prairie fires that formed our native landscapes and nourished the rich soil to provide for bountiful farming.
Creating a Barn Quilt