Donald Cameron Thompson was born March 28, 1916 in Chicago. On May 1, 1943 he married Lucille Shultz, who was born March 18, 1922, also in Chicago. Don served in the Air Force in WWII from 1942 until his honorable discharge in 1945. After the service, the couple lived in Wyoming for 9 years. Don and Lu moved to Illinois and opened their children's shop in 1956. They found space to rent at 35 N. Williams Street. While at 35 N. Williams, they started their "First Baby of the Month Gift" promotion. The winning registered expectant mother of September 1959 was Mrs. Bill Andes of Woodstock, whose son was born at 8 pm on September 1.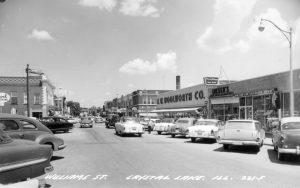 After 6 years at 35 N. Williams, they purchased 23 N. Williams Street. Advertising their new location, they boasted of the newest ideas in merchandise and the largest selection of children's clothing in the Midwest, handling sizes from new born to size 14 for misses and master. Their Christmas shopping ad for 1963 added sizes up to 18 for boys at the "complete clothing store for boys and girls." In 1967, they ran out of room on the main floor, so opened the "Downunder Shop" in the basement. Judy Skeen joined the staff at that time and a year later Barbara Kaye took over the boys' department. To insure a wide selection of the latest fashions, Don and Lu traveled to New York, Canada, and Chicago on buying trips. Their four children, Paul, Donna, Bruce, and Barbara all worked at the shop as clerks, window trimmers, stock clerks, window washers or whatever was needed. Upon the occasion of the store's 20th anniversary in 1976, Don commented that "many of the young mothers buying clothes for their children were our customers when they were children," and the grandmothers coming in, came to the store to buy for their children who have now grown up.
Don and Lu were always members of the Chamber of Commerce and supported activities like the Little League and the Babe Ruth League. Don helped start the Downtown Retailers Association and served as president for a few years. Don had an opinion about downtown. He said, according to the Herald, that the downtown area needed a mall, and that Walkup Avenue should be opened up and Main Street widened to the downtown area.
Don and Lu retired in 1980 and spent summers in their Wyoming cabin and winters in Maui. Don died April 23, 2005 in Woodstock at age 89. Lu passed away at age 94 October 3, 2016 in Glen Ellyn.