Members of the Crystal Lake Historic Preservation Commission and Crystal Lake Historical Society have embarked on a project to clean and repair the headstones at the Crystal Lake Cemetery on Lake Avenue.  Using approved cleaning products, methods and a little elbow grease, members are bringing these stone monuments back to life.  The cemetery's owner, Algonquin Township, is also a partner, playing a key role in the restoration of this historic cemetery.
The Crystal Lake Cemetery is the oldest public burial ground in Crystal Lake and Algonquin Township.  Since it was established in 1840, nearly 1,200 burials have taken place at the cemetery, with about 450 of these being children.  Additionally, 54 veterans are buried at the Crystal Lake Cemetery, broken down as follows: 1-Patriot's War, 6-War of 1812, 45-Civil War, 2-WW1.
On August 15, 2000, the Crystal Lake City Council voted unanimously to approve Algonquin Township's application for Landmark Designation of the cemetery.  The Landmark Designation bestows legal protection to the property for the purpose of preserving its public character and history.  The City's Historic Preservation Commission (HPC) provides the necessary oversight.
Any changes to a landmarked property require submittal and approval by the HPC of a Certificate of Appropriateness.  This oversight is necessary as well-intentioned cleanings or repairs to headstones can actually cause more harm than good.  Repairs and maintenance to non-historic elements of the cemetery (such as the gate, fence, pillar, sign, grass, trees, shrubs, etc.) do not require a Certificate of Appropriateness.  As the cemetery owner, Algonquin Township is responsible for the repairs and maintenance items listed above.
In July 2022, Algonquin Township completed a beautiful facelift to the cemetery's front entrance.  The pillars flanking the main gate and marking the front boundaries of the cemetery have been repaired and re-faced with cut stone.  Additionally, new landmark plaques have been installed.  These plaques provide information on the history and significance of the historic cemetery.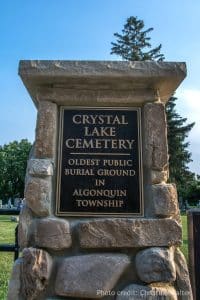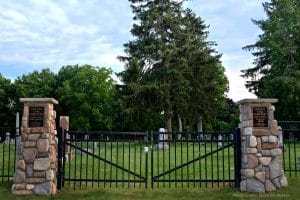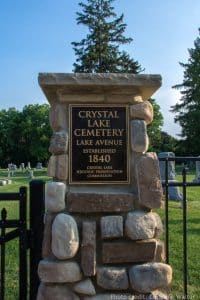 Beginning in 2020 and under the guidance of the HPC, Eagle Scout candidate, Mitchell Hopkins, trained and led a team of volunteers to clean several veteran's headstones at the Crystal Lake Cemetery.  This effort continues with the help of volunteers.  Unfortunately, many of the tombstones are broken, fallen or unstable and cannot safely be cleaned until they are repaired.
The S.O.S. (Save Our Stones) fund was established by the Crystal Lake Historical Society to raise the necessary funds to repair the historic headstones of Crystal Lake Cemetery.  First priority for the use of the funds will be repairing headstones of veterans buried at the cemetery.
---
So far we have raised $4,935 towards our goal of $10,000.
If you would like to donate to this fund, please click on the DONATE button.  Thank you!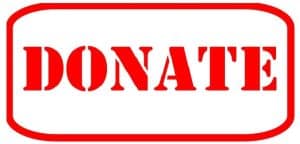 Your help is greatly appreciated!  For additional information, please email us at: info@cl-hs.org