Paul Bertram believed in "giving back" to your community.  This was more than a belief for Paul, it was a way of life.
Paul Bertram was born in South Australia on August 16, 1880.  He was the son of a Lutheran missionary.  His father's assignments sent the family from Germany to Australia, New Zealand, Chicago, and eventually Crystal Lake, where Rev. Bertram became pastor at Immanuel Lutheran Church from 1897 to 1904.
In 1901, Paul married Miss Erda Ritt at Immanuel Lutheran with his father officiating. Paul was a blacksmith and carriage maker, working for Wm. Bruedigam and H.O. Mason before opening up his own blacksmith shop on North Main.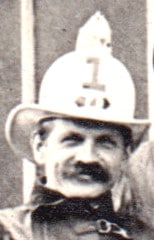 In 1914, the villages of Crystal Lake and Nunda merged to become the City of Crystal Lake.  Paul Bertram was appointed the city's first fire chief, and was given authority to organize a fire department.  His job included selecting and training qualified men to serve as volunteers, arranging for protective hats and coats for the men, and making recommendations for the purchase of a fire truck and hoses needed for the department to adequately protect people and property.
Paul Bertram organized the city's Building department, and served as Building and Electrical inspector.  He was one of the original zoning commissioners, and served as enforcing officer.  He was a member of the Crystal Lake Welfare Association and on the Board of the Illinois Public Aid Commission for McHenry County.  Bertram served as president of the District 47 Board of Education for 16 years.  Paul Bertram was instrumental in organizing the Crystal Lake Chamber of Commerce in 1940, and served as its first president.  He was active in his church, Immanuel Lutheran, serving on countless boards and committees.
Outside of McHenry County, he served on the Illinois Toll Road Commission, Illinois Metropolitan Planning Commission, and 16 years as a Deputy State Fire Marshal.
After retiring from being a blacksmith, Paul's second career was in real estate, in which he built over 40 houses in Crystal Lake!  The first house he built was in 1914 and is located at 50 N. Caroline Street.  The Bertram house has been landmarked by the City of Crystal Lake.  The house is constructed of formed concrete blocks. The Bertrams lived in this house for six years.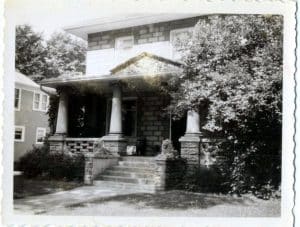 Bertram House, 50 N. Caroline Street – built 1914
In his "spare" time, Paul was able to pursue personal hobbies such as taxidermy and painting.  In 1917, he built a 20' x 20' building in his back yard on N. Caroline Street to create a small taxidermy museum.  Bertram's collection of stuffed birds and animals quickly outgrew the space.  His species were then displayed in store windows, at schools, and throughout town.
In 1960, Paul Bertram reached the age of 80.  The occasion was marked by a surprise party of 100 guests held at Martinetti's Restaurant. The guest book signatures reflect a "Who's Who" in Crystal Lake, including names like Pingry, Sandstrom, Shales, Pflueger, Visin, Zilly, Gumprecht, Heisler, Raue, and many more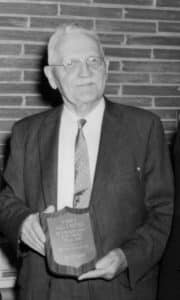 A plaque was presented which read, "In Honor of Paul E. Bertram for Outstanding Service to the Community over the Years.  Presented this 16th day of August, 1960, by His Many Friends."  Paul's modest acceptance of the gift was accompanied by these words, "I'm still impressed with Crystal Lake, and I appreciate this surprise.  In the future, if I can be of any service to the City of Crystal Lake, I'm at your service."