Crystal Lake's most beloved "Doc" wasn't a doctor at all.  He was a restauranteur, a bartender, a businessman, and an all-around good guy.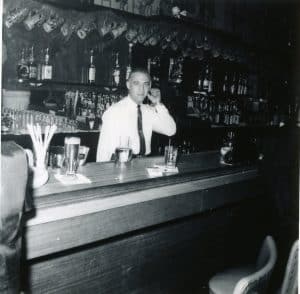 Francis "Doc" Haznow was born June 20, 1914 in Woodstock.  In 1927, the Haznow family, which included Francis, sister Marie, and parents John and Dora, moved to Crystal Lake.  Here, Francis attended St. Thomas the Apostle Catholic School and Crystal Lake Community High School, graduating in 1932.  The nickname, "Doc" was given to Francis when he was in grade school.  No one recalls why, but the name stuck for the rest of his life.
After moving his young family to Crystal Lake, John "Jack" Haznow opened up a restaurant at 446 Virginia Street (this site was later occupied by Porter's Oyster Bar and most recently by Plum Garden Restaurant).  The Haznow family lived in an apartment at the rear of the building.  Jack Haznow's restaurant was known for its good food, and Dora's delicious homemade pie. The restaurant was a family affair, with both children helping out after school and on weekends.
The restaurant struggled through the Depression years.  The decision to apply for a $100 liquor license in 1933 to add beer to the offerings turned out to be a great business investment for Jack and Dora. Their restaurant was renamed, "Haznow's Lakeside Tavern".  Haznow's offered a congenial atmosphere and delicious food – a winning combination.
Francis "Doc" Haznow served in the Army during WWII.  After the War, he continued to work with his parents at Haznow's Lakeside Tavern. Jack and Dora operated the kitchen, which still had a reputation for great food.  Doc served up beer and plenty of conversation to the customers.  Newspaper columnist, Del Cryer recalled, "Doc Haznow never met a stranger more than once – then he was a friend."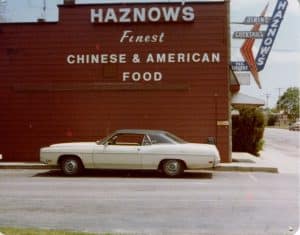 Due to age and poor health of his parents, Haznow's kitchen eventually closed, but the tavern was still in operation.  In 1957, Eng Sun approached Doc with the idea of starting the kitchen back up and serving Chinese and American food.  Eng Sun was the former chef at the Crystal Lake Country Club.  An agreement was reached, the kitchen remodeled, and much to the delight of local foodies, Eng Sun's restaurant started serving up fantastic Chinese and American food.
In March 1959, Jack Haznow passed away.  His son, Doc, then took over ownership of the business.  That same year, Doc married Madeline Lucas, and together they continued the Haznow tradition of great food and hospitality. Doc's mother Dora, and sister Marie also remained active in the family business.
Over the years, Doc sponsored bowling teams, volleyball teams, and baseball teams, as well as trips to Comiskey Park. Together with his friend Jim Oerkfitz, the duo came up with the idea of hosting a golf tournament in winter.  The tournament was named the "Chili Open" and was played in the dead of winter on the frozen lake. Oerkfitz planned and ran the event while Doc cooked the chili (about 50-60 gallons!) and served an elixir appropriately called "Snowshoe". Doc never won the tournament but enjoyed making the chili.  The Crystal Lake Park District continues this tradition by hosting the "Chili Open".
Doc Haznow retired and sold his business in 1982. He died in 1985.  Although he was never a medical doctor, a visit with Doc Haznow was sure to always lift your spirits and make you feel a whole lot better!