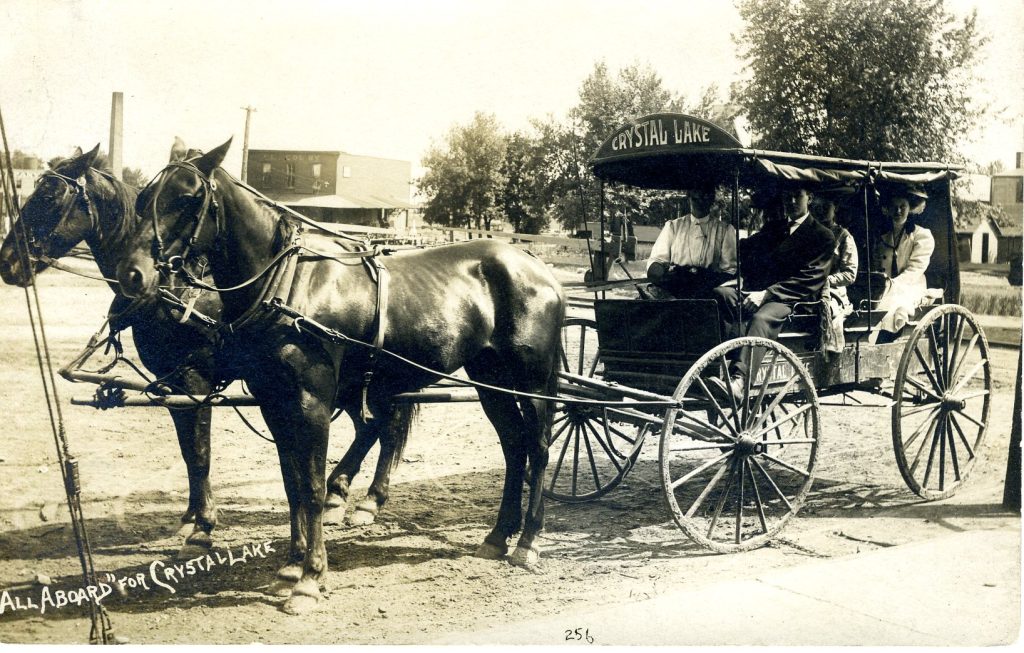 Born March 18, 1860 in McHenry County, Mary Cadwell was the youngest daughter in a family of ten children. In 1854, her parents, Barzilla and Polly Northrup Cadwell, had moved from Wisconsin to a farm in Algonquin Township, southeast of Crystal Lake. Barzilla served in the Civil War in Co. F. of the 15th Regiment, Illinois.
Mary was 27 years old when she married James Harvey Cox, a widower. J. Harvey's first wife, also named Mary, had died one year earlier. J. Harvey was also a veteran of the Civil War, serving in Company G, 52nd Regiment Illinois Infantry. The names of both J. Harvey Cox and Barzilla Cadwell appear on the Civil War Monument in the cemetery.
Mary and J. Harvey's Cox's daughter, Emma was born November 3, 1888. The marriage between Mary and J. Harvey didn't last very long, as Mary filed for divorce in May, 1890. The divorce records show that J. Harvey had been caught cheating on his wife with another woman, Tina Cash. After the divorce, J. Harvey and Tina married, and lived the rest of their lives happily together.
With nowhere else to go, Mary and her young daughter Emma moved back in with her parents. By this time, the Cadwell's were living in a house near the lake (today's Leonard Parkway). A minor settlement from her divorce allowed Mary to purchase a horse-and-buggy to start a taxi service. Mary would shuttle people between the train depot and the resort hotels on Crystal Lake. The Cadwell's driveway was circular, allowing her to easily turn the buggy around for the next trip. Mary was known for her charming personality, as well as her reliable taxi service.
The scandal of divorce left an imprint on Mary. She never re-married; and often fluctuated between the names of "Cadwell" and "Cox." Later census records indicate she was a widow, even though her ex-husband was still alive.
Emma Cadwell-Cox married John Anderson Marshall in 1908. John's widowed mother, Margaret, also was an independent business woman. With her second husband, Royal Gracy, Margaret is credited with starting the first movie house in Crystal Lake, called the Gem Theatre.
James Harvey Cox died January 3, 1926. His obituary makes no mention of his second marriage to Mary Cadwell; nor does it mention his daughter Emma. Mary Cadwell-Cox died August 12, 1939. Buried near her are the people she loved most: her parents, her youngest brother Jesse, and her beloved daughter Emma.