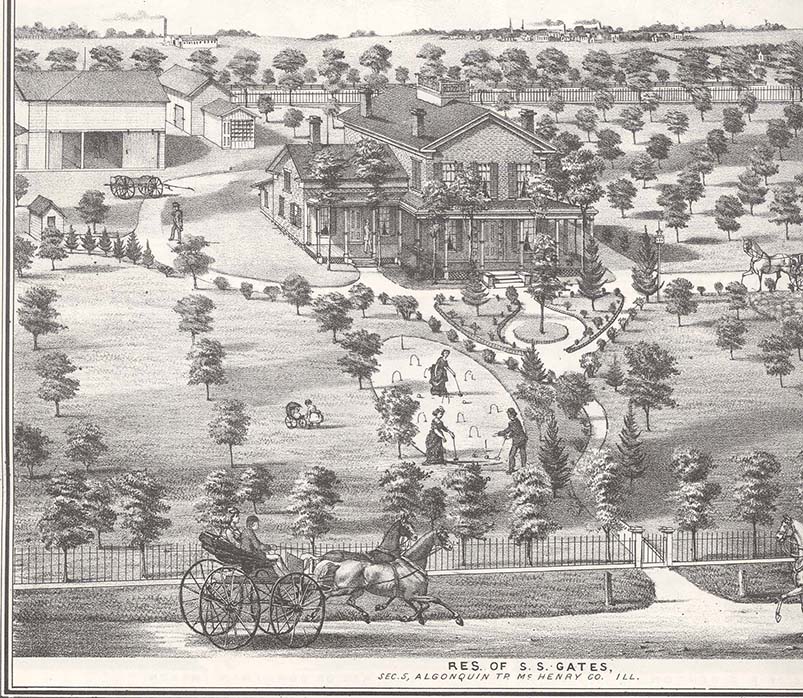 Gates Street is located in the section of town which was originally known as the Village of Nunda. Although only a few blocks long, Gates Street is named for one of Crystal Lake's most prominent early citizens. Simon S. Gates, one of ten children, was born October 1, 1799 in Stockbridge, VT. He was raised in Worcester, MA and it was there that he grew up to receive a splendid education. In the spring of 1838, Simon visited McHenry County on a prospecting tour. He returned in the fall, the entire journey being made on horseback. The next year, he returned to Crystal Lake and made several land investments. Simon returned to his home and was elected to the Massachusetts State Legislature.
In 1844, Simon married Miss Sylvia Day. Simon and Sylvia had three children: Sumner E. (civil war veteran, who was taken prisoner and placed in Libby Prison), William D. (famed owner of the American Terra Cotta and Ceramic Co.), and Mary. Simon also had two daughters from prior marriages. In 1852, the Gates family came West and lived on the property bought at Crystal Lake in 1839. Simon Gates steadily purchased other properties throughout the area, and soon became one of the largest landed estate owners in the county.
Located at 210 McHenry Avenue (behind St. Mary's Episcopal Church), the Gates House, built circa 1852, is of the Federalist Greek Revival style. It is believed to have been built by Andrew Jackson Simons, a stone mason from Nunda, New York. The Gates House boasts Simons' famous cobblestone foundation. The building was first used as the Crystal Lake Academy, a private school attended by young people from the prominent early families of Crystal Lake.
The Crystal Lake Academy failed, and the property (building plus 6.5 acres) was purchased by Simon Gates. He moved his family into the home. Simon Gates died on June 24, 1876. At the time of his death, his estate was valued at over a half-million dollars, a huge amount of money for that time.
Simon, Sylvia, sons William and Sumner, as well as many other Gates family members are buried in Crystal Lake's Lake Avenue Cemetery.