Bethany Lutheran Church was organized on February 23, 1923.  Thirty people signed the charter when it was known as the Swedish Evangelical Lutheran Bethany Church.  At first the congregation met in the second floor of the Teckler Building, located at Williams and Brink Streets.  The Teckler building is now home to Heisler's Bootery and Old Towne Hall.
The congregation purchased a land at the corner of Elmhurst and Crystal Lake Avenues.  Construction of a new sanctuary began in September, 1924.  Local contractor and church member, Nels Kling, was in charge of the construction.  In order to save money, the small congregation dug the building's foundation by hand!  The new church was completed by June, 1925.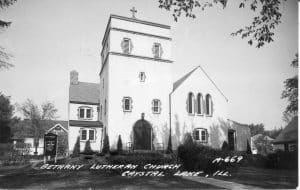 Original church building
The parsonage, built in 1931, (located just east of the church) was a Sears Kit Home Model "The Strathmore."  Almost all the labor and some of the materials were donated by members and others.  This house still stands, but was later moved to 467 S. McHenry Avenue.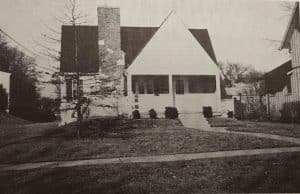 The depression of 1930 took its toll financially on the young congregation.  At the annual meeting of January 9, 1931, the general fund balance was $9.49.  Things began to look up during the 1940s, as the church's membership grew.
By 1955, the congregation had started to outgrow its original facility.  An education wing was completed in 1958.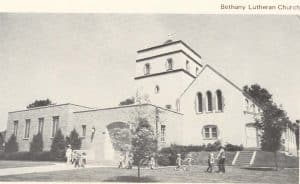 Original church building with education wing addition
As a result of the congregation's growth and need for additional space, the old church building was torn down and a new brick structure built in 1978.