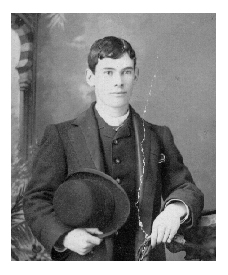 Leonard Parkway is named after Patrick H. Leonard, who operated a successful summer resort near today's intersection of Leonard Parkway and Lake Shore Drive. Prior to 1921, the road known as "Leonard Parkway" did not exist.
For many years, the large tract of land near the northeast corner of the lake was owned and farmed by wealthy landowner, James Crow. In later years, the majority of this land was sold to the Selz family. However, in 1892, Crow sold about five acres, including lake frontage, to Dr. Henry Byford, a prominent and wealthy doctor from Chicago. In 1893, Dr. Byford spent $15,000 to build a majestic three-story Victorian mansion with 25 rooms. This was his family's summer home. The Byford home was accessed from West Street (now known as Lake Shore Drive).
In 1908, Pat Leonard acquired the Byford estate. Having operated a hotel on the north shore of the lake, Leonard was quick to open his "New Leonard Hotel" in the magnificent Byford mansion. The "New Leonard Hotel" had a reputation for good food and great hospitality. Sadly, its reputation lasted only a decade, when the beautiful Byford mansion was consumed by fire.
After the fire, Pat Leonard decided to retire from the hotel business. He subdivided and sold much of his land, and thus created "Leonard Manor" subdivision. Many of the homes in this neighborhood were built in the 1920s. Some were built as summer homes for wealthy Chicagoans; others were used year-round. Today, it is a neighborhood of mixed architecture that blends with its natural surroundings of large oak trees and of course, our beautiful Crystal Lake.